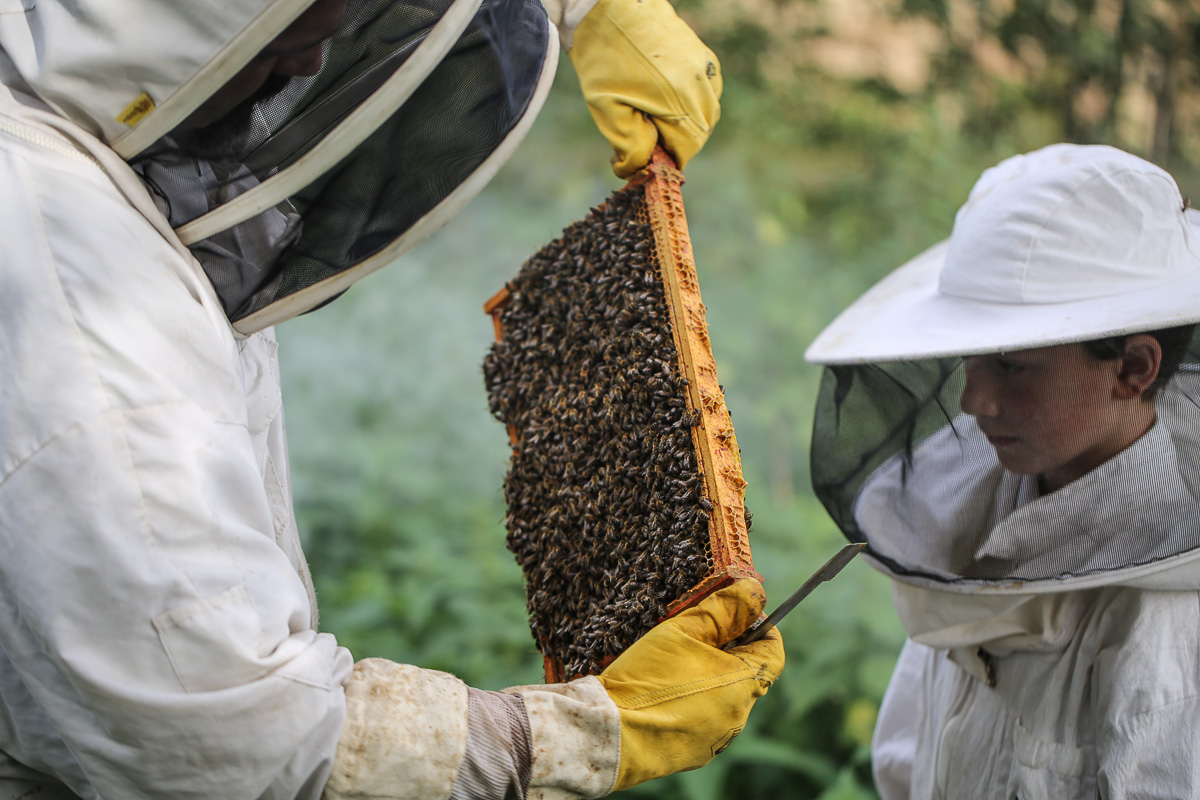 Cardona & Son are professional and passionate bee-keepers who are dedicated to the plight of British honeybees. We're based in North Hertfordshire just outside Stotfold.
Andre started beekeeping as a teenager at boarding school and was fascinated by the British honeybee and its habits. After relocating to Hertfordshire from London in 2004 Andre and his family set about creating their very own 'Good Life' – from vegetable patches, to sheep, pigs and hens, then finally honeybees and their very own apiary.
Since 2005 he has managed and tended to his own honeybees, selling delicious honey to local outlets and making a name for himself collecting swarms and relocating colonies. He has been known to be found at the top of a cherry picker, delicately cajoling bees from tops of chimneys, much to the delight of locals watching!
Andre's extensive knowledge and passion for beekeeping is infectious and he is proud to be introducing more and more people to the joy of tending to honeybees. You'll often find Andre and his eldest son out checking the hives – Santiago got his first beekeeping suit when he was five years old!
Andre's latest projects include setting up and managing apiaries for local businesses as well as hosting beekeeping experience sessions for those looking for more insight into life as a beekeeper.
Wherever you are on your own beekeeping journey, from a keen amateur to a total beginner we look forward to hearing from you!
Andre, Jane, Santiago & Felix
Cardona & Son can help with all of the below services:
Honeybee Swarm Removal - safe and ethical removal and relocation

Ethical Honeybee Colony Removal - extracted and relocated safely to an apiary

Wasp and Hornet Nest Termination - fully insured

Bees for Business - CSR projects where we manage hives at your location

Beekeeping Experience Days - From beginners to keen amateurs!

Delicious, raw honey - for sale at local outlets around North Herts